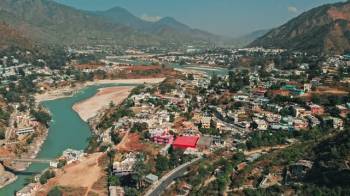 Early morning, pilgrims after having a bath in the Taptkund have the Darshan of Badrivishal. Brahamakapal is significant for PinddanShraddh of ancestors (Pitrus).
1300 hrs : Drive down to Sri Nagar enroute visiting Rudraprayag
1800 hrs : on arrival check in at your Hotel.
2000 hrs : Dinner and overnight stay at the Hotel.
Attractions:
Mana Village – it's the last Indian village before Tibet, inhabited by the indo- mangolian tribe
Vyas Gufa – a rocky cave in Mana Village, it's a belief that rishi Vyas scripted the famous epic of times "Mahabaratha"
Charan Paduka –a beautiful meadow where you can see the footprints of Lord Vishnu on a boulder
Tapt Kund – it's a natural hot water spring where the devotees take bath before entring the temple for pooja, darshan.
Narad Kund – very next to the Tapt Kund, its believed that the idol of Badrinath G was recovered from this pool.
Vishuprayag – the first prayag, confluence of Dhauliganga and Alakananda River.