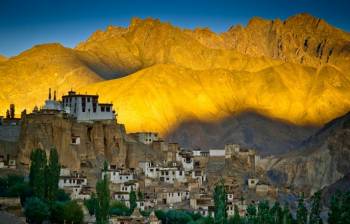 Morning after breakfast visit Hall of Fame, Spituk Monastery and Kali Mata Temple, Magnetic Hill, Gurudwara Patthar Sahib and Confluence of Zanskar - Indus rivers. Return to Leh for lunch (on own). Evening free to walk to Leh bazaar from where you can have magnificent view of Leh Palace and Shanti Stupa. Dinner and overnight stay at the hotel in Leh.
LADAKH HALL OF FAME: The Hall of Fame is a glorious museum constructed by the Indian Army. It is worth a visit for every citizen. You can see the memorabilia, eminent defense personalities with biographies, images and weapons used during the Kargil and other key strategic battles fought in Ladakh. And belongings of the enemy soldiers found at war site. All the martyr and the gallantry awards. Here's something that you will be proud of our defense personnel who sacrificed themselves so that we could live in peace.
SPITUK GOMPA: 8 Kms from Leh, it stands prominently on the top of hillock commanding a panoramic view of the Indus Valley for miles. Many icons of Buddha and fine Thankas are to be found in this 15th century Gompa. The Gompa also houses a collection of ancient masks, antique arms and an awe-inspiring image of Mahakaal. The face of the Kali image is kept covered and is revealed only at the annual function at January every year.
MAGNETIC HILL: Defying the Law of gravity. This place is close to the Gurdwara Shri Patthar Sahib. It has been noticed that when a vehicle is parked on neutral gear on this metallic road the vehicle slides up-hill that's the Believe it or not of Ladakh!
GURDWARA SHRI PATTHAR SAHIB: Situated 25 miles from Leh, Gurudwara Pathar Sahib stands at the place where Guru Nanak, the founder of Sikh religion and the first guru, is believed to have vanquished a demon. According to legend, during his sojourn in Ladakh, Guru Nanak was attacked by a demon. The demon threw a large boulder on the guru as he sat at the base of a hill meditating. However,
the rock became soft like molten wax and failed to cause any harm to the Sikh guru. The demon was in for a surprise when he found the Sikh guru unscathed. Bristling with fury, the demon tried to crush Guru Nanak by kicking the boulder with all his might. To his surprise, the demon's foot caused a deep impression in the boulder which had turned soft. Realizing that the man in front of him was no mortal soul, the demon underwent a transformation and stopped harassing the people. The boulder with the imprints of Guru Nanak Dev Ji and the foot of daemon still rests there. The gurudwara is maintained today by the Indian Army. It is a tradition for vehicles to stop and pay obeisance at the temple.